Privacy Coins: A BlackHat Project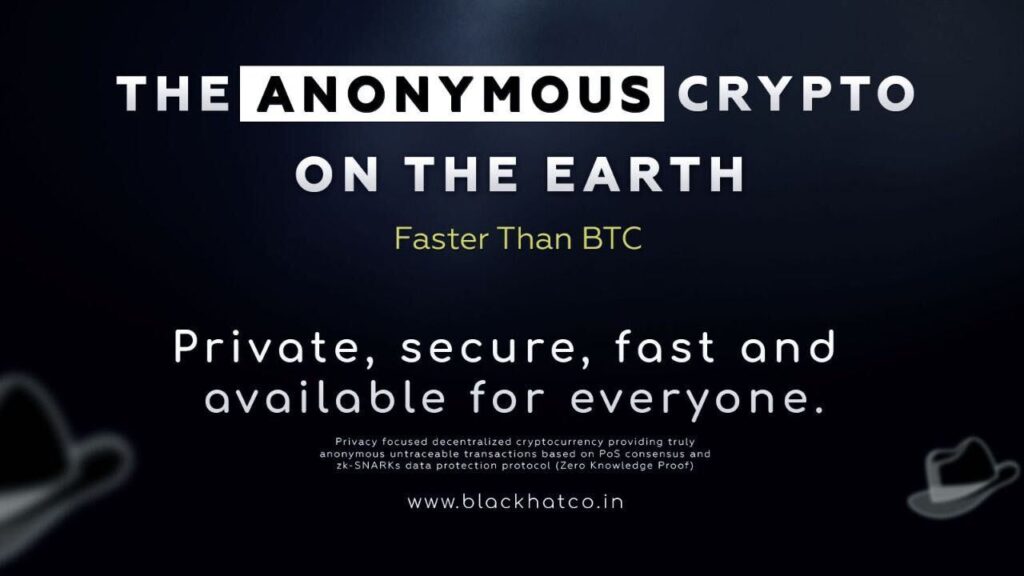 All crypto identities changed some years ago with the rise of cryptocurrency companies such as Chainalysis. Every crypto transaction since inception is available on the public ledger, so analytic companies can easily track the flow of funds from suspected wallet addresses used for any activities and flag them.
This fundamental flaw has led to the rise of privacy coins, a project undertaken by BlackHat.
Some people want to hide their transactions for some reason. And we are talking not about criminals here, we are trying to remind you about one of the basic human rights – privacy.
Privacy coins are equal and fungible by default. Despite using a public blockchain network, they are able to obscure the participant's identity and transaction amounts. Fund transfers, therefore, become untraceable.
Moreover, privacy coins mostly have fewer transaction fees, more transaction throughput, and some of them are more eco-friendly than Bitcoin. The most known privacy coins are Zcash, Dash, Monero etc. But developers of this part of the crypto-industry are still bringing new and new projects which allow you to diversify your risks.
Today we want to draw your attention to a young but very promising privacy project – BlackHat coin (BLKC).
Started in 2021, the community-driven project called BlackHat Coin emerged to fulfill all objectives connected with privacy. This privacy coin is based on the Proof-of-Stake consensus algorithm and zk-SNARKs data protection protocol to provide users completely private transactions.
"Compromising is impossible. The history of the coin origin cannot be traced," stated the project.
Benefits of the BlackHat Project
Proof of Stake consensus (PoS).
BlackHat's PoS mechanism gives users different opportunities. The first option is to stake by using not only hot but cold staking also. This means that users are able to stake their coins not only in BlackHat wallet connected to the blockchain 24/7 but delegate their coins to be staked in another hot wallet, while their staking rewards will be paid out directly to their offline wallets.
The second option in BlackHat is to use a staking pool in their Web and Mobile wallets. This means that literally anyone will be able to stake the coins including those without any technical background!
The third option is MasterNodes. You need 5000 BLKC to run your own masternode. If you need help you can use project guide article .
PoS consensus is also known as eco-mining. You can see many in the Zcash community sharing their motivations that Zcash should transition from the current Proof-of-Work (PoW) consensus protocol to a Proof-of-Stake (PoS) protocol. Vitalik Buterin is changing ETH protocol from PoW to PoS too.
BlackHat Coin relies on both stakers and masternodes to decentralize, govern and secure its network. The block rewards are divided between stakers and masternodes owners on a 40/60 basis. Masternodes add a second layer of security to the network while providing the staking community with a more attractive source of passive income.
Block reward amount decreases every three months by 20% (about ~50% yearly) until it reaches 2 BLKC. So currently it is a pretty good moment to get in.
At the moment Project already has PC core wallets (for the main OS like Linux, macOS, and Windows); web wallet, and mobile Telegram wallet: @BlackHatWalletBot as a mobile wallet with easy to use, quick and safe method to make crypto transactions.
The BlackHat Project has Decentralized Governance as the system of proposals that is submitted to the blockchain network to be voted by masternode owners to determine if the proposal should be funded. Each masternode can vote for or against each proposal (one vote per masternode for each active proposal) thereby setting the vector of network development. Therefore, only community-validated initiatives will be funded. Thus, the masternode owners play a similar role as that of shareholders in big companies who can vote for some decisions and directions of the project.
For users who don't want to use exchanges for some reason, BlackHat Team has created an Over-The-Counter (OTC) platform where you can buy and sell BLKC without KYC.
BlackHat plans for 2022
According to the project roadmap, the BlackHat team has amazing plans for this year:
Merchant system and BLKC merch shop. This is a kind of payment processing system which could be easily integrated on any website, store, Telegram channel and so on. It will be first and clear example how to use their merchant system (every online-store will be able to do it).Wrapped BLKC token.NFTGlobal charity project in BlackHat ecosystemDeterministic masternodes.First coins burning event planned on 15 of February.New listings (next listing will be in 25 of January on XT).
Summary
BlackHat coin that features highly active developers could become the top picks as the sector continues to heat up. Hence, now is an excellent time to buy the dip on. Due to limited supply, cryptocurrency prices tend to rise with growing network adoption – which I believe will be the case for BlackHat coin.
Find BlackHat on social media: Telegram | Twitter | Discord | Weibo
Source: BlackHat
Disclaimer

All the information contained on our website is published in good faith and for general information purposes only. Any action the reader takes upon the information found on our website is strictly at their own risk.